Investigating the Field of Biomagnetism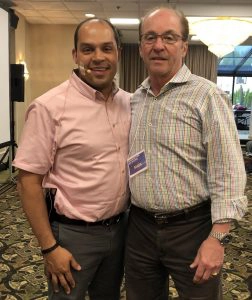 In my quest to find additional modalities to help my patients, family, and friends enjoy a healthier, vibrant life, I am consistently reading and exploring.
About a year ago, I began investigating the field of Biomagnetism. I signed up for an online course, but I didn't feel its training was adequate for me to start using it. However, the theory and use of Biomagnetism resonated with me, and I knew that this was valuable knowledge to acquire. As I continued my search, I came upon Dr. Luis Garcia. Dr. Garcia was having a 5-day hands-on seminar teaching Biomagnetism. By the time I learned about the course, for me to attend, would require rescheduling three days of patient appointments. So, unfortunately, I had to wait six months until Dr. Garcia's next seminar. This past May, I took his course (The photo at the top left is of myself with Dr. Garcia, a truly dedicated and passionate practitioner and a really nice individual as well). His course was fairly intense – 10 hours a day for five days; however, it was exciting and mind-blowing!
The second day, Dr. Garcia treated Jamie, one of the attendees, to demonstrate the application of Biomagnetism. Jamie's story is exciting. Five years ago, he started to have trouble walking, and standing for a brief time was a problem because of the pain down his leg. His balance was so bad he related that he was often humiliated, even falling headfirst through a plate glass window. Jamie had tried everything – physical therapy, acupuncture, massages, and all sorts of natural treatments. Neurologists were at a loss for an explanation. A few months before the seminar, Jamie had some sessions with Biomagnetism, and he had a bit of improvement. Because this was the first treatment that helped at all, he came from California to attend the seminar. Jamie related that his thigh muscles felt so weak that he had to stand with his knees bent – and could not stand up over his feet. His stride was very short, and 'hurky jerky" and this was an improvement from the Biomagnetic treatment he had previously received. Because of his years of experience, Dr. Garcia knew the primary underlying cause of Jamie's problem. Dr. Garcia treated Jamie on the second day of the seminar to demonstrate his methodology of treatment. When Jamie got off the table after about 45 minutes of treatment, he RAN around the room!! Running was something he had not been able to do for five years! If anyone had any doubt about the power of Biomagnetism that doubt disappeared as Jaimie ran around the room. Jamie continued to improve each day. He reported he could now stand at the urinal without having to have his arm against the wall for stability. On day five, as we came up for our certificates of completion, Jamie took the hand of one of our classmates and danced. There were other improvements among the participants as people self-treated at night or as we practiced on each other. One professional guitar player was having trouble playing because the shoulder of his guitar-strumming arm had minimal mobility. He also had tried various treatments to no avail. By the end of the seminar, he regained full mobility. Another participant had chronic right knee and hip pain for the past year; that also had about 90% improvement. In addition, Dr. Garcia discussed and showed videos and photos of many cases of various problems that were successfully treated with Biomagnetism.
What is Biomagnetism, and how does it work? Next month I will explain this. For now, just let me say that Biomagnetism is perfectly safe and has no downside, and it is compatible with various allopathic and complementary treatments. I believe Biomagnetism, combined with homeopathy and other types of energetic therapies offered at the Breiner Whole-Body Health Center, will help solve many of the problems plaguing so many people today.
© 2019, Mark A. Breiner, DDS
The information presented is for educational purposes only. Please consult a qualified dentist or health practitioner for diagnosis and treatment.