Congratulations to our doctors who won 10BEST Natural Nutmeg's 2018 Readers' Choice Awards!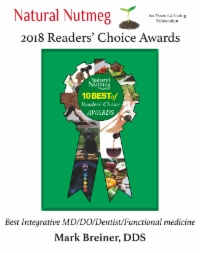 Dr. Mark Breiner garnered BEST DENTIST
Dr. Adam Breiner BEST NATUROPATH
Dr. David Brady BEST NUTRITION
Dr. Elena Sokolova BEST TRADITIONAL ORIENTAL MEDICINE
Natural Nutmeg is a popular Connecticut-based publication with readers across Connecticut, lower Massachusetts, as well as New York areas adjacent to Connecticut. Thank you to the readers of Natural Nutmeg magazine for voting our doctors the 10BEST in their respective areas of practice.