We're excited to announce that Natural Nutmeg's 10BEST Awards nominations starts NOW!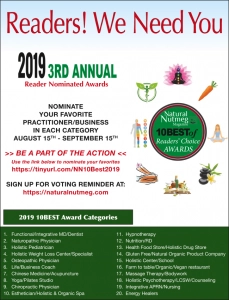 Our readers and patients are invited to nominate our doctors for Natural Nutmeg's 2019 Annual 10BEST Awards. Natural Nutmeg is a popular holistic health publication that has readers throughout Connecticut as well as surrounding areas of Massachusetts and New York. Our doctors have been featured writers in this publication; some of their featured articles include:
Nominations are being held through September 15th.
Vote our doctors:
Functional/Integrative MD/DDS – Mark Breiner
Naturopathic Physician – Adam Breiner
Osteopathic Physician – David Johnston
Chinese Medicine/Acupuncture – Elena Sokolova
Functional/Integrative MD/DDS – David Brady
Nominate our holistic practitioners from our office in the selected categories above. The top 10 with the most nominations in each category will be featured as Natural Nutmeg's 10BEST.
Winners will be announced and featured in a special issue coming
December 2019.
Click on this link below or on the image on the top left above to nominate our doctors.
Only one ballot per person.
Online ballots must be submitted by
11:59 pm EST on September 15th, 2019.
Instructions: Click on the link and submit a valid e-mail in the email address box (required). Then type in your nominations for each of the 20 categories. You do not have to nominate for every category to complete the ballot. After you have made your nominations, just hit the Submit button and you're done!
Thank you.